Printing
PrePress

Our pre-press department combines highly skilled, expert staff surrounded by the latest in prepress technologies. This combination of experience and fully automatic workflow along with high-speed output creates an environment that emphasizes throughput while maintaining high quality standards. Our sophisticated systems accept work seamlessly from the internet and we monitor each job's progress throughout the process.
On-line Proofing
Parks Printing offers InSite, an on-line system that allows clients to view, print, download, make changes, upload, proof and approve their files via a web browser. Some of the benefits to InSite are:
Easy to use web interface
Instant Preflight Report
Online proofing of your Project
Minimize cycle times and costs
Easy to collaborate with creative and prepress staff
Make changes and approve art
Prepress Equipment List
Macintosh - Creative Suite/InDesign, Quark
Production, Design and Typesetting available
Kodak Printergy PDF workflow
Kodak Magnus Platesetter system with autoloader
Kodak Color Matchprint Inkjet Proofers
Kodak Creo Insite with remote, collaborative PDF proofing
Sheetfed Pressroom

Our pressroom is staffed with the finest equipment and experienced personnel. Our pressmen each have years of experience to assure that we produce an exceptional printed piece.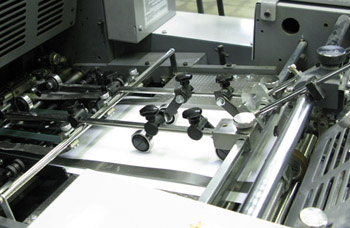 We have three different press sizes to make sure that we print your job on the press best suited for your project. Each of our presses feature the latest efficiency and quality control features. Our new five-color Komori LSX29 press offers the most efficient job cycle in the industry. From start to finish the press emphasizes reducing hourly running cost & waste. The LSX29 accomplishes this with automation that reduces makeready by 50% and running speeds of 16,000 sheets per hour. For extra efficiency, our 40" two-color Komori press can print one color on both sides of a sheet in a single pass. We run multiple shifts on our presses.
Digital Printing
Our HP5500 Indigo Digital Press is the perfect solution for either short-run (low quantity) color work, on demand printing or variable data printing (VDP).
VDP gives you the ability to test your marketing programs on a small scale without incurring the cost of offset printing. The Direct Marketing Associations research shows that coupling a person's name with a specific offer of interest yields a 5 times greater response rate than a non-personalized direct mail.
Pressroom Equipment List
24 x 29 1/2 (23 x 29 Image Area) Komori, 5-color plus inline coater - New
28 x 40 (27 x 39 Image Area) Komori, 2-color perfecting press
13.375 x 17.75 (13 x 17.25 Image Area) Ryobi 2-color
12 x 18 (11.5 x 17.5 Image Area) HP Indigo 5500 Digital Press, 5-color - Variable Data Capable
24" FMA UV Coater
X-Rite Densitometers
Bindery / Finishing
We have a complete bindery division that is well equipped for self-reliance and ultimate quality control over the finished product. Our staff has been gathered from some of the best trade binderies in the industry and produces the finest quality finishing work.
We haven't found many projects we can't finish but if we do, we partner with some of the finest binderies for the finishing work we do not perform internally. We have forged long standing relationships with vendors who meet or exceed our expectations in quality and turn around.
Bindery Equipment List
21 x 28 Heidelberg Cylinder Press - Die cutting, scoring & perforating
Saber Cutter with cutting system
Polar Cutter
Stahl & MBO Folders
Muller Martini w/cover feeder and 6 pockets for Gathering, Stitching and Trimming
Horizon Perfect Binder
Rollem - Number/Score/Perf
Drills
Round Cornering
Wire-O Binding
Coil Binding
Shrinkwrap Equipment
Shipping and Handling

Our shipping department fulfills each order within and provides follow-up receipt of that shipment (with estimated arrival time and date) to our clients online. We package and ship anything we produce and can ship anywhere in the world.